Written by test
Sunday, 01 May 2011 00:00
Follow Eco Preservation Society on FaceBook and Twitter
Videos and Articles on Costa Rica Eco Travel
Plan your Costa Rica Travel Adventure / Volunteer Application Form
More Conservation News

Sustainable forestry
is the process of managing forest use in a bid to fulfill society's commercial needs while preserving the forest's health and diversity for future generations. It is often thought of as a balance between the demand for forest products and the protection of the forest's health and diversity.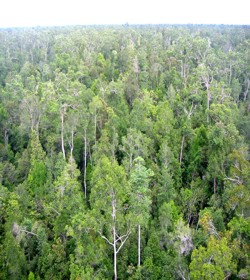 Tropical Forest remove large quantities of atmospheric carbon dioxide (Borneo depicted).
Photo credit: H.-D. Viktor Boehm
In more practical terms, forest managers looking to implement a sustainable forestry plan often develop a strategy by assessing an assortment of factors, including the commercial values of the region, the needs of the environment and the community's economic position.
The principles, which helped encapsulate the general understanding of sustainable forestry at that time, were legally non-binding, but many of the 172 governments that attended the conference put the principles into practice in some form or another.
The United States government identified several criteria as being important to sustainable forestry and put them into practice.
Conservation of biological diversity

Maintenance of productive capacity of forest ecosystems

Maintenance of forest ecosystem health and vitality

Conservation and maintenance of soil and water resources

Maintenance of forest contribution of global carbon cycles

Maintenance and enhancement of long-term multiple socioeconomic benefits to meet the needs of societies

Legal, institutional and economic framework for forest conservation and sustainable management
Consumers who are concerned about sustainable forestry can look for third party certification on wood and paper products in order to verify that they come from trees grown in sustainable forests.
Both organizations put their logos on wood and paper products that meet their requirements for sustainably managed forests or tree farms. Products ranging from printer paper to household furniture to lumber carry these certifications.
With the existing sustainable forestry methods that have been put into place, the watchdog organizations that are monitoring the progress and calling for further action, and consumers that are consciously choosing sustainable wood products, the forests can be preserved so that future generations can get as much use and benefit from them as past generations have.
-- Text by Robin Shreeves
Last Updated on Saturday, 11 June 2011 15:50